The President of Germany, Joachim Gauck, while responding to questions on the repatriation of funds stashed in European Banks advised Nigeria to adopt a model used by Germany when they were in a similar position.
He said they had used illegal means to get the information needed to track the funds.
However, the European Union on Thursday pledged $50million as support for the fight against Boko Haram insurgency and resettlement of the Internally Displaced Persons, IDPs, in the country.
German President Joachim Gauck announced the pledge on Thursday at a joint press conference when he visited the President Muhammadu Buhari at the Aso Rock Villa, Abuja on a state visit.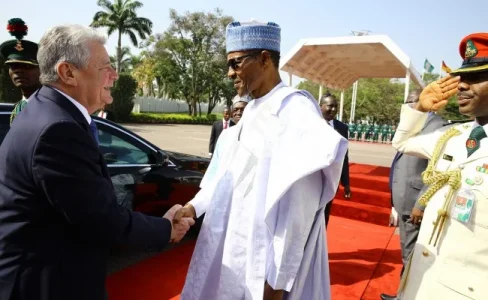 Mr. Gauck stated that the EU was supporting an already initiated approach by the Buhari administration to fight the Boko Haram scourge in collaboration with the neighbouring countries and the African Union.
He added that what Germany wanted to see was a peaceful change, which was being propagated by the president.
"We as Europe will support that initiative with $50 million. We commend your good governance.
"Good governance is not possible without peace, Germany will support Nigeria in the fight against Boko Haram and we would continue to provide support for the displaced people on a humanitarian basis," Mr. Gauck said.
Source:
Premium Times
PLACE YOUR ADVERT HERE
Connect with Politics News Readers!
[3222]