No less than five individuals were killed in overnight conflicts in Burundi, police said on Sunday, and occupants reported a fight at the president's office in the capital Bujumbura which has been tormented by brutality since a questioned presidential race.
Burundi has been in emergency since President Pierre Nkurunziza reported in April he wanted to keep running for a third term - a move adversaries said damaged the constitution and a peace bargain that finished a 12-year common war in 2005.
Hundreds have been slaughtered in related viciousness since April and 217,000 individuals have fled to encompassing nations, raising apprehensions of a slide into ethnic clash in a locale where recollections of the 1994 genocide in neighbor Rwanda are still crude.
Nkurunziza said a court decision permitted his offer and went ahead to win a questioned race in July.
Inhabitants in Bujumbura's Rohero neighborhood, near the president's office, said they heard shooting and blasts overnight.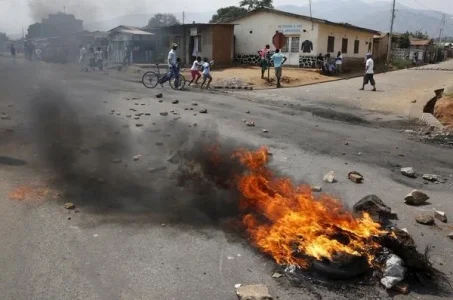 "We heard parcel of shootings, blasts and shelling. Furthermore, it was a sort of trade of flame between troopers at the administration and assailants. Mortars were additionally let go," a night gatekeeper close to the president's office said.
Authorities and police couldn't be gone after remark and state media TV and radio have not reported any savagery at the administration.
Nonetheless, Bujumbura Mayor Freddy Mbonimpa said four individuals had been slaughtered over the capital, two policemen injured and 28 individuals captured.
The captures happened in Bujumbura's Ngagara neighborhood on Saturday evening when police attacked a bar and kept 28 adolescents on suspicion of having weapons.
"That is the reason they came to capture them for examination which have now started," Mbonimpa said. The leader lives in the area and survived a weapon assault at his home prior this week.
- TVC News