✅ NEW - get your business listed and your information shared across social media.
Former Minister of Aviation, Femi Fani-Kayode has taken Nigerians through the path of history on how the Fulanis conquered people of old Habe kingdom to establish the Fulani Caliphate.
Fani-Kayode in his new article titled:
"Hausa And Fulani – Language As A Tool Of Conquest",
narrated the history of the old Habe kingdom and how Islam was imposed by force of arms and the use use of sword by Sheik Usman Dan Fodio.
In the article, he pointed out that: "There are over 100 distinct and independent ethnic groups in northern Nigeria, each with their own cultural and historical heritage and distinct language, yet they are all compelled to speak Hausa.
"Some of them have even forgotten their own native language or never learnt to speak it in the first place. Others do not know who they are or where they are coming from.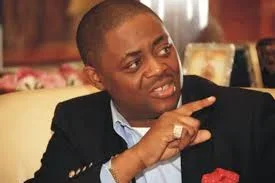 "Some do not even know that they ever had a language or heritage of their own. Everything for them, from beginning to end, has become Hausa. This speaks volumes", he said.
The former Minister also pointed out that from the 18th century when the Caliphate was established in northern Nigeria the forceful imposition of Islam and the Hausa language were used by the Fulani as tools of conquest and what the French describe as the "raison d'etra" (which means "rationale") to dominate and rule over the people of that region.
"They used both to reduce the so-called "minorities" of the north to slavery and servitude. They also used both to humiliate them and bring them to their knees.
"Now they want to do the same thing to the rest of Nigeria. Many fail to appreciate or recognise this because they are shallow. Yet a failure to fully grasp or appreciate such things will eventually lead to nothing less than slavery.
"May God open our eyes, may He continue to guide us and may He give us courage and understanding", he said.
Since the historic visit of United States Secretary of State, John Kerry to the North east and his meeting with Northern governors including President Muhammadu Buhari and the Facebook CEO, Mark Zuckerberg' statement on inclusion of Hausa language in its social media site, Facebook, Fani-Kayode has been tensed criticising the government of planning to find its way into
Islamising the nation.
No comment or statement from any government official as at today over various allegation by the former Minister.