The idea of launching a website might seem like an elaborate task that is meant for high-tech coding experts who have spent several years mastering the skills needed to design and develop a website.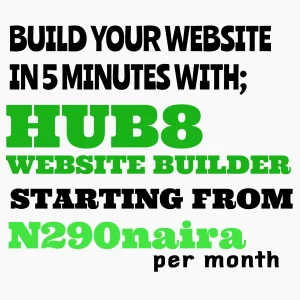 This is true, about 20 years ago. If you don't know by now that you can build your own website from scratch in a single day without having to learn any form of coding, here is your chance to understand and how this works.
The introduction of website builders into the web hosting scene as relatively eased up the steps and processes needed to launch a website. With the right type of tools provided by a standard web hosting service provider, a total newbie who hasn't developed a website before in his or her life should be able to launch a fully functional website within few minutes of starting the project.
This speed and ease can be credited to the use of website builder.
A typical website builder will contain all the tools needed to be coupled with a simple and beginner friendly user interface. The interface is one of the most important, as a complicated user interface will hinder the flow of work to be done, thus slowing down the process and defeating the whole purpose of an easy mean of launching a website.
HUB8 website builder
exemplifies an easy to understand user interface which also features rich which rivals those of the so-called world standard web hosting.
Who is HUB8?
HUB8
is a web hosting and domain registration solution in Africa, with the main goal of bringing world-class standard web hosting experience to the continent.
HUB8 is well known for offering the best when it comes to Web hosting, the platform is also well known for its relatively cheap web hosting and domain solution with the added advantage of service that can't be matched by any provider on the scene.
What to expect from HUB8 Website Builder?
Starting from just 290 Naira per month only,
HUB8 website builder
is feature packed and it allows you the freedom of selecting from 190 different templates in which you can model your website after. The Website builder features a drag and drops input methods. Here all you need is a click of your mouse, and keyboard along with some preselected images and texts. The HUB8 website builder is user-friendly also as it is made with beginners in mind.
Features of HUB8 Website Builder Tools
Tools
20 components for quick and easy setup, which includes; Video, Music, Social Media Buttons, Images, Forms, Banners, Custom HTML, and Galleries.
190 templates to select from
The website builder feature about 190 different templates aimed at making it easy to create any type of basic website. These templates feature websites such as; sport, magazines, blogs, music, video, corporate, business, educational etc. It is left for you to select the best one for you.
Unlimited Bandwidth, sub-domain, and email
The website builder plans like other plans from HUB8 features unlimited bandwidth plans along with daily backup and 99.9% uptime guarantee.
The plan also comes with a 20 percent discount on every annual purchase, along with a free domain name.
HUB8 website builder plan is targeted at webmasters of all level of web development experience. For the experts, the website builder makes it possible to work faster with little effort needed, while for the total newbie, it helps to lessen or totally eliminate the need for learning from scratch before you can develop a website.
HUB8 also offers a
Shared hosting plan,
with Unlimited Bandwidth, Daily backup, Free SSL, Cpanel etc all starting from 250 naira per month. HUB8 also offers the cheapest COM domain name in the country, costing just 3,500 naira per year.
HUB8 is a global brand offering the best services to Nigerians and putting an end to bad web hosting experiences common in the Nigerian web hosting scene.
[4385]
2