Former President, Goodluck Jonathan may have turned down a former National Publicity Secretary of the Peoples Democratic Party, Chief Olisa Metuh's subpoena as his defence witness.
His lawyer, Dr. Onyechi Ikpeazu (SAN), told Justice Okon Abang that he had written Jonathan to that effect but that the former President did not reply.
Ikpeazu said his intention was to apply for subpoena to be issued on Jonathan after the detained former National Security Adviser, Sambo Dasuki, earlier summoned to testify as Metuh's witness ended his testimony.
He said, "We have another witness on subpoena, and at the end of the evidence of this another witness, we will take a decision on whether or not the first defendant (Metuh) will testify.
"The other witness we want to subpoena is Goodluck Jonathan, former President of the Federal Republic of Nigeria."
Responding to further questions from the judge, Ikpeazu said, "We wrote him a letter but he did not respond and our plan will be to apply for the subpoena after the first application (for subpoena to be issued on Dasuki)."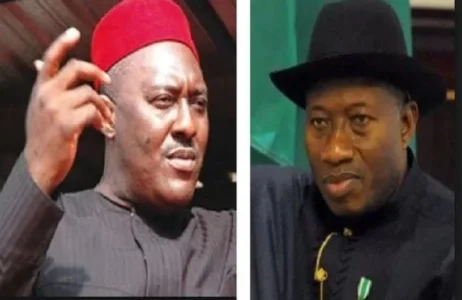 Although Ikpeazu said Dasuki was scheduled to be the next to testify for the defence, the ex-NSA was absent from court on Monday.
Dasuki's lawyer, Mr. Ahmed Raji (SAN), was however in court to oppose the request to compel the ex-NSA to testify as Metuh's defence witness.
The Economic and Financial Crimes Commission, had in January 2016, arraigned Metuh and his company, Destra Investments Limited, on seven counts of money laundering involving alleged cash transaction of $2m and fraudulent receipt of N400m meant for procurement of arms from the NSA office on November 22, 2014.
[2121]