President Muhammadu Buhari has reiterated his administration commitment to end Boko Haram insurgency in the Nigeria soon.
He assured Nigerians displaced by insurgency in Adamawa, Borno and Yobe States that they would return to their homes soonest, saying his administration was doing everything to bring Boko Haram down.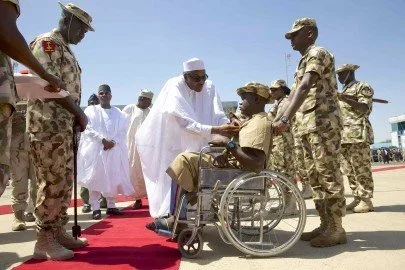 Buhari gave the assurance yesterday while on a visit to the Internally Displaced Persons (IDP) camp at Makolhi, located after the 23 Armoured Brigade in Yola in the company of the National Leader of the All Progressives Congress (APC), Senator Bola Tinubu and other top government officials.
Buhari, who also visited troops in Yola, honoured seven soldiers who sustained serious injuries in ongoing operations against Boko Haram with the Purple Heart medal for gallantry.
"I know that most of you are farmers and your farmlands have been destroyed but let me assure you that you will soon go back and continue with your farming," Buhari told the IDPs.
- SUN
[2028]