The Minister of Health, Prof. Isaac Adewole, has said that he was not aware of a cure for HIV/AIDS by Prof. Maduike Ezeibe of a Nigerian University.
The minister had reacted to claims of finding a cure for HIV being made by a Professor of Virology at the Michael Okpara University of Agriculture, Umudike in Abia State, Maduike Ezeibe.
Health Minister Adewole, in a text message sent through the Director Media & Public Relations at the Ministry of Health, Mrs. Boade Akinola, wrote, "I'm not aware of his claims.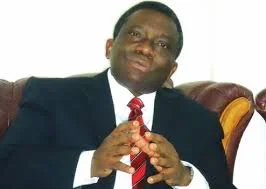 "There are standard ways of disseminating such information.
"The Nigerian Institute of Medical Research, in conjunction with the College of Medicine University of Ibadan, has been mandated to verify two claims of cure for HIV in Nigeria.
"We shall make our findings public when ready."
Related:
Nigerian Professor, Maduike Ezeibe 'Discovers Cure For HIV/AIDS'
[5366]