✅ NEW - get your business listed and your information shared across social media.
The Nigerian Army has issued a warned that it would shut down markets hampering the on-going anti-insurgency operations in the North-East.
Colonel Sani Kukasheka Usman, the acting Director, Army Public Relations said some criminal elements were using certain markets to aid the Boko Haram members.
His statement read: "It has come to the knowledge of the Nigerian Army that while concerted efforts are being made to finally clear all remnants of Boko Haram terrorists in the North East in particular and the country generally, some unscrupulous elements in the society have been thwarting that effort for pecuniary gains. They engage in all manners of illegal commercial activities such as trading and smuggling especially during late hours, all aimed at sustaining terrorism and insurgency. This is more prevalent in some towns and villages within the North East especially in Borno and Yobe States. The unpatriotic and selfish elements have clandestinely been aiding the terrorists with logistics and other supplies, through smuggling and other forms of illicit trading, thus sustaining them, while the merchants of death make money out of it."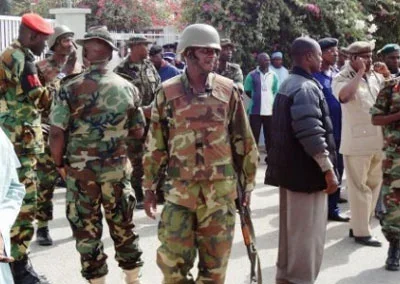 "Consequently, the Nigerian military and indeed the Nigerian Army is highly concerned with these unpatriotic acts. The Nigerian Army is therefore taking some drastic steps to curtail this illicit trading with the terrorists. From now on, some markets identified to be engaging in this illegal trade with the adversary in Borno and Yobe States will be closed. Any breach of that would be dealt with accordingly. The General Officers Commanding and other commanders have been directed accordingly. We implore for public's kind support and understanding as we take these drastic measures to enable us decisively deal with the terrorists and saboteurs."
Source: DailyPost