The Nigerian Army has barred soldiers on duty from uploading photos or videos.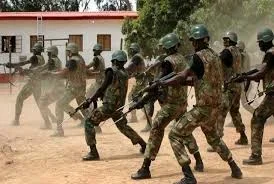 According to Daily Trust, Adeniyi Oyebade, a lieutenant-general and general officer commanding (GOC) 1 Division Mechanized Army, Kaduna, gave the directive on Tuesday.
Oyebade said, ''It is prohibited to upload any picture with your uniforms while in operation," he was quoted as saying.
"Specifically, I want to warn you on the use of social media. While you are on operation, you may want to take photo shot of some good moment but you should be very careful while doing that.
"Avoid any picture or video that has to do with your colleague or operation. You are barred not to upload such information. It is prohibited to upload any picture with your uniforms while in operation because it will become a pragmatic problems for the Nigerian Army."