✅ NEW - get your business listed and your information shared across social media.
Nigeria's Mohammed Barkindo and other ministers of the Organisation of Petroleum Exporting Countries (OPEC) are curenttly meeting in closed-door in Vienna to determine and reach a consensus to cut oil production and prop up global prices.
The meeting is to resolve differences between OPEC's three biggest producers, Saudi Arabia, Iran and Iraq.
Qatar's Minister of Energy and Industry, Dr Mohammed Al-Sada reiterated this at the opening of the 171 meeting of the OPEC Conference on Wednesday.
They are presently at loggerheads over how to share the burden of a plan to reduce supply for the first time since 2008.
The aim is presently to get the 14 members of OPEC to cut production to 32.5 million barrels per day from their October level of 33.6 million.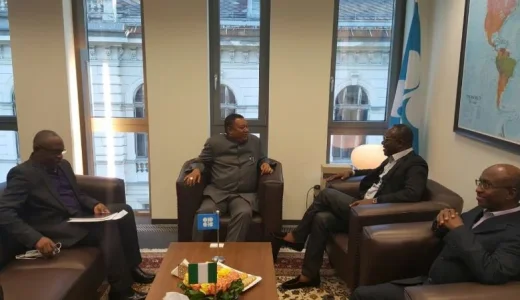 Dr. Ibe Kachikwu in a meeting with the OPEC Secretary General in preparation for the 171st OPEC meeting holding today in Vienna.
NAN reports that the Ministers are presently in a close door meeting that is scheduled to last till 4 p.m and at the end of the meeting, a press conference will be held to announce key decisions and agreements reached.
Minister of State for Petroleum, Mr Emmanuel Kachikwu expressed optimism that a favourable consensus will be reached after the meeting.
"We're optimistic. There's still a few gray areas we have to patch up, but I like to go in believing that we're going to reach a deal," he said.