The Senate President, Dr. Bukola Saraki, has backed the business magnate, Aliko Dangote for the sale of government properties and other sources to shore up reserves in order to revive the economy.
Africa's richest man, Aliko Dangote, had on Friday in an
interview with CNBC Africa
suggested that selling of assets is a better way for the Nigerian government to boost the country's recession-hit economy.
"I think the real challenge for us is now for us to have the political will in terms of selling some assets," he said.
Senator Saraki made this recommendation as the Senate resumed plenary after a seven weeks' recess.
Addressing lawmakers, Senator Saraki said that the sale of assets would calm investors, discourage currency speculation and stabilize the economy.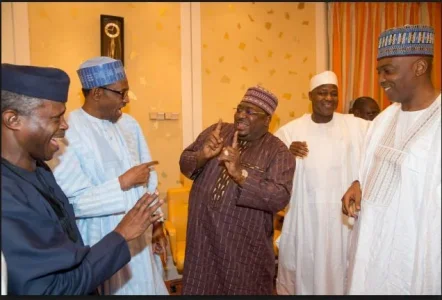 He recommended part sale of the NLNG Holdings, reduction of government share in upstream oil joint venture operations and sale of government stake in financial institutions.
Senator Saraki also recommended several other measures to address the country's economic challenges, including the privatization and concessioning of the major and regional airports and refineries.
The Senate has resolved to engage in a two-day debate on these recommendations and submit to the executive.
Related: Aliko Dangote Speaks: The Best Way to Pull Nigeria Out of Recession
Last edited by a moderator:
[1693]