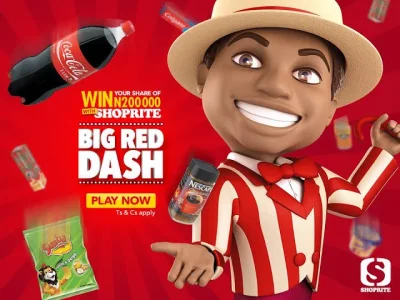 THE COMPETITION:
Users stand the chance to win their share of the total aggregate amount of N200,000 (Two Hundred Thousand Naira) in gift vouchers. The total prize money will be used on the website, where the game will be hosted. The winners will be chosen through a random draw at the end of the duration of the campaign.

ELIGIBILITY
To participate in this competition you must:
1.Be a Nigerian citizen or permanent resident of Nigeria; and
2.Hold a valid ID document.
PRIZES:
Multiple entrants stand the chance to win Shoprite Shopping vouchers to the total value of N200,000 (Two Hundred Thousand Naira). If you are successful and win a Shopping Voucher, your prize will automatically be sent to you via SMS.
Please remember to copy down the reference number if you get one.

HOW TO ENTER
Go to the Shoprite website (
www.shoprite.com.ng
) and play the Big Red Carnival Game, Big Red Dash, by following the instructions supplied.
At the end of the game you will need to fill in your details and submit to Shoprite Nigeria.
Prizes are sent out on a weekly basis, there will be 3 winners, one will receive a N20 000 (Twenty Thousand Naira) voucher and two winners will receive N10 000 (Ten Thousand Naira) voucher.
Winners are selected through a weekly draw. The vouchers can only be redeemed once details have been given and you have opted into receive our monthly mailer.
Good luck!!!

Competition Ends 3rd July​
Last edited by a moderator: