Ekiti state Governor, Ayo Fayose recently had a very emotional moment when he met with principals of secondary schools at Adetiloye hall in Ado Ekiti.
According to NIGERIAN TRIBUNE, Fayose rolled on the floor and wept freely while thanking the teachers for not abandoning him since he left office in 2006.
Addressing the teachers who had just called off their strike, Fayose assured them that their two months salaries and other benefits owed by the administration of the immediate past governor, Dr Kayode Fayemi, would be paid soon.
"I knew how I was able to partner with you to bring Ekiti from 35th to sixth position. I will still do same now. Before any payment to the political appointees, you will be the first to be considered.
"During my first term, I met a deplorable education sector, but with your support, I overcame.
"It was so bad and disheartening that rather than for ex-Governor Fayemi to face human capital development, he believed in building a N3.3 billion Government lodge for his own comfort at the expense of you workers", Fayose told the teachers.
The meeting with the teachers was not the first time Fayose took to the floor to make an outing more emotional. During his thanksgiving service at Deeper Life Bible Church in Ado-Ekiti, Fayose also rolled and prostrated on the floor.
#Fayose #Ekiti #Fayemi #AdoEkiti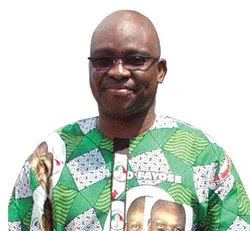 Last edited: