Eight students of Ajangbadi High School in Iba Local Council Development Area, LCDA, Lagos went into coma after the railing of the two-storey building in the school collapsed.
The incident which caused pandemonium in the school premises occurred at about 10:00 a.m. as the students were leaning on the rail on the second floor of the building.
Vanguard gathered that the rail had shown signs of rust but was not replaced.
Miss Rofiat Ademola, a Senior Secondary School, SSS1 student, said the rail finally gave way on Monday and injured eight of the SSS 3, students.
Source: Vanguard
- See more at:
http://www.vanguardngr.com/2013/11/8-students-injured-school-railing-collapses-lagos/#sthash.kRhg8cmz.dpuf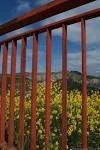 [4120]