Ondo State government on Thursday implemented the newly introduced residency card, also known as 'Kaadi Igbe Ayo'.
According to Governor Olusegun Mimiko, the card will be the only prerequisite for all residents of the state to access government facilities.
He listed some of the government facilities to include Abiye Safe Motherhood programme, to the micro-credit and economic empowerment, highly-subsidised agricultural inputs and supplies, free education and others.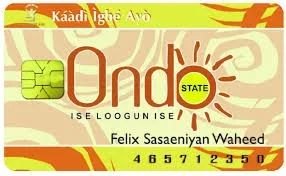 "Kaadi Igbe Ayo is a state-wide, dynamic, chip-based multipurpose transaction card that contains the basic bio data, as well as socio-economic data of holders and the state welfare package solutions and applications." he said.
"It is a smartcard that serves as an interface between the state government and all residents. It is the instrument of access to all democratic dividends of the present administration."
He, however, urged the people of the state to ensure prompt payment of their tax, in order to help the government in executing and maintaining some of the projects and social facilities.
Source: Tribune
[1837]