✅ NEW - car park, swimming pool, 24 hours light/security and more.
Bala Ngilari, deputy Governor to impeached Governor Murtala Nyako has been sworn in as the 12th Governor of Adamawa state by the acting Chief Judge of the state, Justice Ambrose Mammadi.
Ngilari's swearing in follows an earlier decision by a federal court in Abuja.
Click here to Read Court Sacks Fintiri As Acting Governor
Meanwhile, the Independent National Electoral Commission, INEC is yet to issue an official statement on the cancellation of the Adamawa Governorship by-election. Also, hearing on Nyako's suit challenging his impeachment comes up tomorrow, October 8.
#Adamawa #Nyako #Fintiri #INEC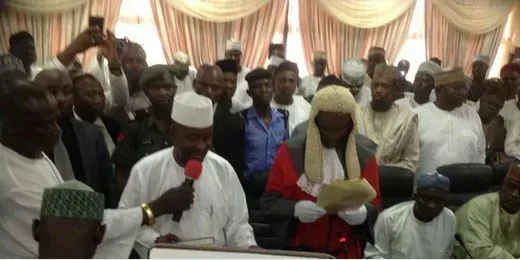 Ngilari taking the oath of office
Photo Credit: @Usmatee (Twitter)